Kiev 88
Kiev 88 is a single-lens reflex camera, which, in its basic form, consists of the 88 camera body, a 80mm / f=2.8 multicoated lens, Kiev FM12 (6×6 cm) or FM16 (6×4.5 cm) interchangeable film magazines, removable waist level finder and PV45 TTL-metered prism viewfinder.
Two models of the camera are made: Kiev 88 and Kiev 88 Master.
The Master model has a pre-release mode (MLU, Mirror Lock-Up). The mirror control mechanism allows avoiding undesirable impact from mirror actuation with a shutter release and thus improving image sharpness. Kiev 88 Master camera allows you to lock-up the mirror before releasing the shutter by pressing the mirror release button.
Kiev 88 camera has a screw bayonet mount.
Kiev 88 camera kitK88 lens mount, accepts Hasselblad viewfinders Basic kit includes: Kiev body w/…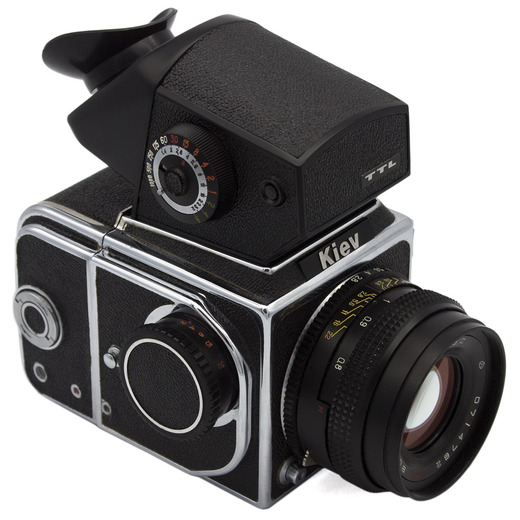 Kiev 88 Master camera kitK88 lens mount, MLU (mirror lock-up), accepts Hasselblad viewfinders Basic…