Kiev 88CM
Kiev 88CM is a single-lens reflex camera, which, in its basic form, consists of the 88CM camera body, a 80mm / f=2.8 multicoated lens, Kiev FM12 (6×6 cm) or FM16 (6×4.5 cm) interchangeable film magazines, removable waist level finder and PV45 TTL-metered prism viewfinder.
Two models of the camera are made: Kiev 88CM and Kiev 88CM Master.
The Master model has a pre-release mode (MLU, Mirror Lock-Up). The mirror control mechanism allows avoiding undesirable impact from mirror actuation with a shutter release and thus improving image sharpness. Kiev 88CM Master camera allows you to lock-up the mirror before releasing the shutter by pressing the mirror release lever.
The breech-lock design of the Kiev 88CM camera bayonet allows using interchangeable lenses of Pentacon Six or Exakta 66 cameras.
Kiev 88CM camera kitP6 lens mount, accepts Hasselblad viewfinders Basic kit includes: Kiev body w/…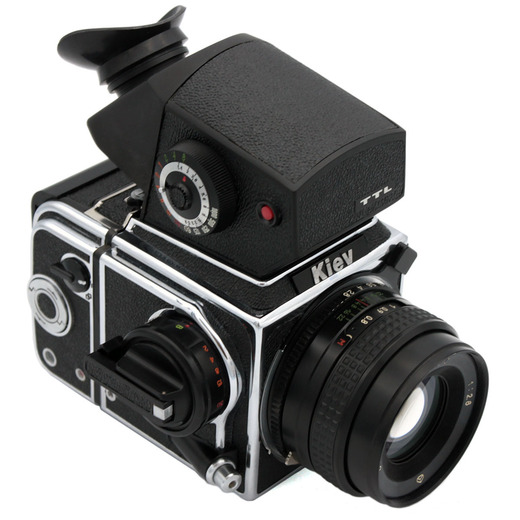 Kiev 88CM Master camera kitP6 lens mount, MLU (mirror lock-up), accepts Hasselblad viewfinders…